Home

>

otera-list

>

groupmoto19-moto26

> Number 22Sōtoku-ji temple
Number 22Sōtoku-ji temple
History of the temple
The statue of Senju Kannon (Thousand-Armed Kannon) worshiped in Sōtoku-ji was made around 1100 years ago, during the reign of Emperor Daigo (885-930). It was enshrined in a Kannon Hall which stood 100m (328ft) in the south-east direction from the current temple. A river which flows there to this day – Daimongawa (Big Gate River) suggests that a big gate was also standing in front of the Hall.
The Kannon Hall was moved to its current place in 1609, into precinct of this temple, which at the time hold a different name Naizan Renzō-in. In 1992 all buildings where repaired and reroofed thanks to the support of many devoted believers.
In the close distance from Sōtoku-ji stands Konpira Hall devoted to the God Konpira (guardian deity for seafarers, navigation, fishing, and water for agriculture).
Three-Storied Stone Pagoda (Futao dostrict)
Kameyama City's Tangible Cultural Property from 1996
Sōtoku-ji stands on higher ground from which the whole district of Futao can be seen. The Three-Storied Stone Pagoda stands in the middle of the hill at the back of the complex and is surrounded by trees. Pagoda is 2.29m (7ft6.1in) high, made from granite and consists of 6 carved stones. The base is in the shape of a square, on which three stones making the main part of the pagoda are standing on top of each other. At top stands a finial. Unfortunately it has broken, but there rest of the pagoda is in good shape.
A pagoda is a tiered tower with multiple eaves. There can be three-storied or five-storied pagodas, like the famous five-storied pagoda of Hōryū-ji temple in Nara. The numbers can go as high as seven, nine or thirteen, but the numbers are always odd. The stone pagoda of Sōtoku-ji is a three-storied monument but it is possible that originally it was five-storied and some parts of it had fallen off. The eaves are gently curved and from the bottom to the top they get narrower with each level.
Half of the base stone is buried in the ground. The first stone from the bottom is a 55cm (21.6in) high cuboid with reliefs depicting Buddhist figures on four sides. Unfortunately being exposed to wind and rain for centuries, the reliefs eroded and it is impossible to determine which Buddhas were originally carved in the stone.
Judging by the shape and other characteristics of this pagoda, it is safe to assume that it was made around 800 years ago at the beginning of Kamakura period (1192-1333). There is no way to tell who made it and why. Was it placed here from beginning or was it brought from some other place? Nevertheless it is a rare example of monument from 12th – 13th Century rarely found in Japan. It is also an important proof of the Buddhist culture of the Kameyama area.
Seiyōzakki
Ryōzan Sōtoku-ji stands in Harao village, about 2 ri distance from Kameyama. It belongs to Sōtō sect and its main statue is Senju Kannon. It is a temple number 21 of Ise Pilgrimage.
Deep valley of Uchiyama is as deep as Goddess Kannon's mercy and willingness to grant the wishes of people who come to pray.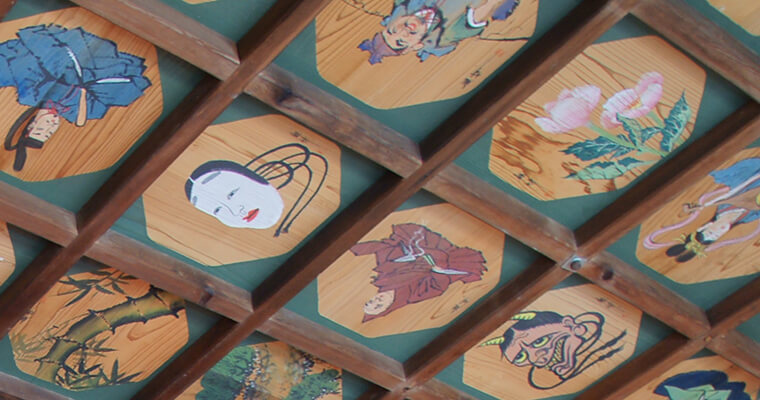 Outline
Honorific name

Seiryōzan

Temple's name

Sōtoku-ji

Sect

Sōtō

Religious service

Jūichimen Kannon
(Eleven-Faced Kannon)