Home

>

otera-list

>

groupmoto19-moto26

> Former Number 19Renkō-ji temple
Former Number 19Renkō-ji temple
History of the temple
According to the legend Jūichimen Kannon (Eleven-Faced Kannon) enshrined in the Kannon Hall of Renkō-ji temple was carved by Genshin (also known as Eshin Sōzu, 942-1017). The statue was originally worshiped in Anyō-ji temple, which belonged to Jōdo sect of Buddhism. During the Keichō period (1596-1615) Anyō-ji lost its buildings in a fire, but fortunately Jūichimen Kannon was taken out in time and saved from burning. Since then it was protected by the local people.
Since 1669, after Itakura Shigetsune (1643-1688) became a new Lord of the Kameyama Castle, all the following Lords of the castle and their wives were devoted believers. They would frequently offer donations for flowers, incense and candles. Shigetsune's main wife Shōkōin (secular name Fudeko) was especially devoted believer of Goddess Kannon. In 1695 she moved the temple to nowadays Tenjin area in Kameyama city and changed its name to Jigen-ji. The temple became a branch temple of Shōkō-ji from Nomura area in Kameyama and changed its affiliation to Nichiren sect of Buddhism.
After the Meiji Restoration in the middle of the 19th Century, Jigen-ji not having an abbot and supporters was closed. Its buildings were torn down and two statues were moved to other temples. The first Jūichimen Kannon, together with other Buddhist statues and ritual utensils, was moved to Shōkō-ji. The second Jūichimen Kannon was moved to Renkō-ji and enshrined in a newly built Kannon Hall. This Kannon Hall wore off with time and had to be rebuilt. Thanks to the donations from the local community, the new Kannon Hall made from hinoki cypress was finished and the official celebration ceremony was held on March 17th 1982. To commemorate this event a stone pagoda with a text: Temple Number 19 of Ise 33 Temples Pilgrimage was also erected.
Jūichimen Kannon statue of Renkō-ji is designated as Kameyama city's Cultural Property.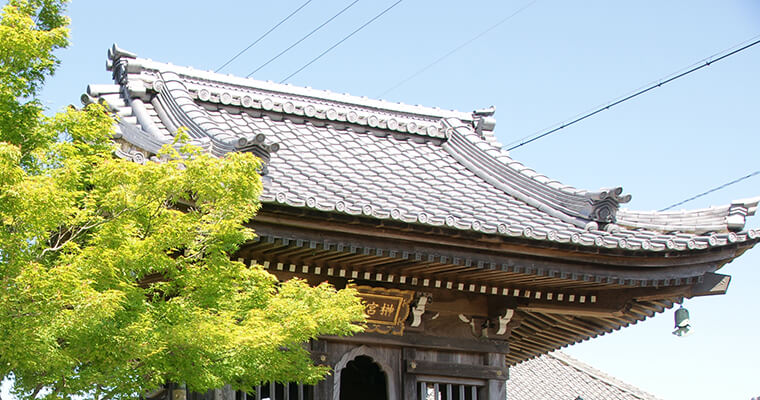 Outline
Honorific name

Shingūzan

Temple's name

Renkō-ji

Sect

Tendai Shinsei branch

Religious service

Jūichimen Senju Kannon
(Eleven-Faced Thousand-Armed Kannon)