Home

>

otera-list

>

groupmoto19-moto26

> Number19Koyasu Kannon-ji temple
Number19Koyasu Kannon-ji temple
History of the temple
According to the legend Koyasu Kannon-ji was built by a powerful member of the imperial court Fujiwara Fuhito (659-720), who followed the order of Emperor Shōmu (701-756). It was officially opened by monk Dōshō in 715. Koyasu Kannon-ji is a famous temple with more than 1200 years of history.
The temple's legend say that the main statue depicts Byakue Kannon (White-Robed Kannon), who appeared from the waters of nearby bay riding a drum. She is worshiped as Koyasu Kannon (Kannon protecting children and childbirth) and gathers plenty of devoted believers who come to pray for help with difficult childbirths and ask for the protection of their progeny.
Koyasu Kannon-ji has many cultural properties in its possession. Among them there are: the Niō Gate (Main Gate), the Main Hall, Bronze Lantern, The Bell Tower, Three-storied Pagoda, portraits of Empress Shōtoku (718-770), Emperor Gohanazono (1419-1471), Emperor Ōgimachi (1517-1593), and safe childbirth prayer written on paper offered by Tokugawa clan members.
In temple's grounds grows a sakura cherry tree known as Fudanzakura, sakura which blooms all year long. According to the legend it sprouted from ashes of the temple, which burned after being hit by a lightning in Tenpyō Hōji period (757-765). In 1923 the sakura tree was designated as a National Natural Monument.
Koyasu Kannon-ji is also a temple number 16 of Mie Shikoku 88 Temples Pilgrimage.
Seiyōzakki
Shirokosan Kannon-ji belongs to Shingon sect. It stands within monks settlements in Shiroko village. It was an official praying place of Emperor Shōmu. It is said it was built by Fujiwara Fuhito. Temple number 6 of Ise Pilgrimage. It is called Kannon of Shiroko.
The waves of Tsutsumi Bay sounding like a temple's drum remind of a Buddha's absolute vow
People say that the sound of the crushing waves in this bay resemble hitting a drum. That is why since ancient times this bay is called Tsutsumi Bay (Drum Bay).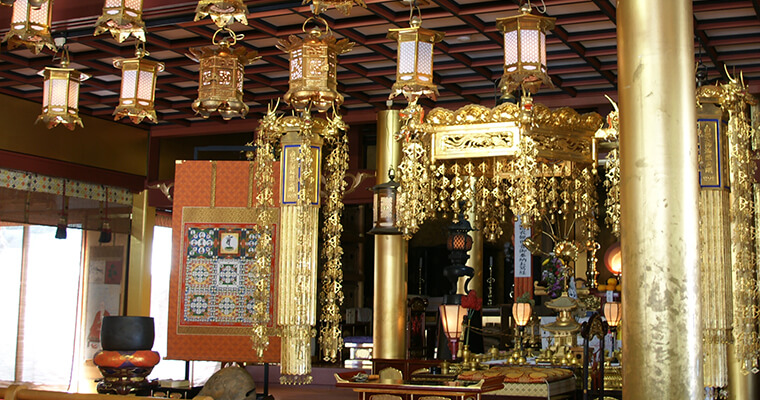 Outline
Honorific name

Shirokosan

Temple's name

Koyasu Kannon-ji

Sect

Shingon Kōyasan branch

Religious service

Byakue Kannon
(White-Robed Kannon)